I'm still waiting on a couple potentiometer vendors, but joysticks are a go and I've found some good pots in the same style as the Alphas at Futurlec - but with Re'an knob length shafts - at a good price.
I will stock the joysticks in the future (once I can afford to), but would like to start a list of those interested in a group buy of them and/or the pots. Due to the all-time low of the US dollar, the joysticks aren't as cheap as I would like; but they are still cheaper than anything else (and feel nicer as well).
Details on joysticks and pots below. Pricing is determined by quantity of course, but the pots would be around $0.30 USD each, joysticks around $30.00 USD. These are highball costs, I'll give an accurate number once I have an idea on quantity and shipping costs.
Joysticks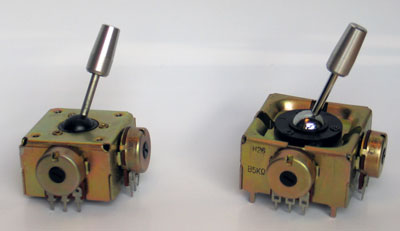 Linear only, standard value is 10k. 100k available with "much longer" lead times. I'm waiting to hear back about 5k and other options.
The small joysticks have 60° travel, the large 90°. The picture is of older styles which are discontinued, but very close to the current ones. Current smalls are built like the large one in the pic, with PCB mounts and threaded panel-mounting holes. The current large ones look the same but now have the threaded panel-mounting holes.
Pots
(I'll post a picture later today)
16mm PCB mount, just like the rotary Alphas at
Futurlec
. These have the 15mm overall shaft length, so they don't have to be cut down, and the PCB pins are ~1mm longer. They feel the same (they sent me some samples), nice and smooth. Another plus: the washers are tighter tolerance, so they don't slip as far off-center as the Alpha ones do.
Let me know if you're interested, and how many you want of what! I'll keep a tally and let you know when we have enough.
~flight