I've completed two Oakley projects; the Ring Modulator and Dual LFO. I'm presently debugging the LFO (I'll post another thread about that) but I noticed a bit of a problem with the size of the panels and their installation in my Synthesizers.Com cabinet.
I downloaded the FPD files Tony so graciously posted on his site for manufacture in the US by Front Panel Express. I have to say that Front Panel Express did a great job on the panels. They are excellent quality and delivery was fast.
The trouble is that the Synthesizers.com modules are a tiny bit wider and taller than those outlined in the FPD diagrams.
The result of this is that when I place the modules in my DotCom synth there is extra space which can not be covered up by a standard DotCom panel.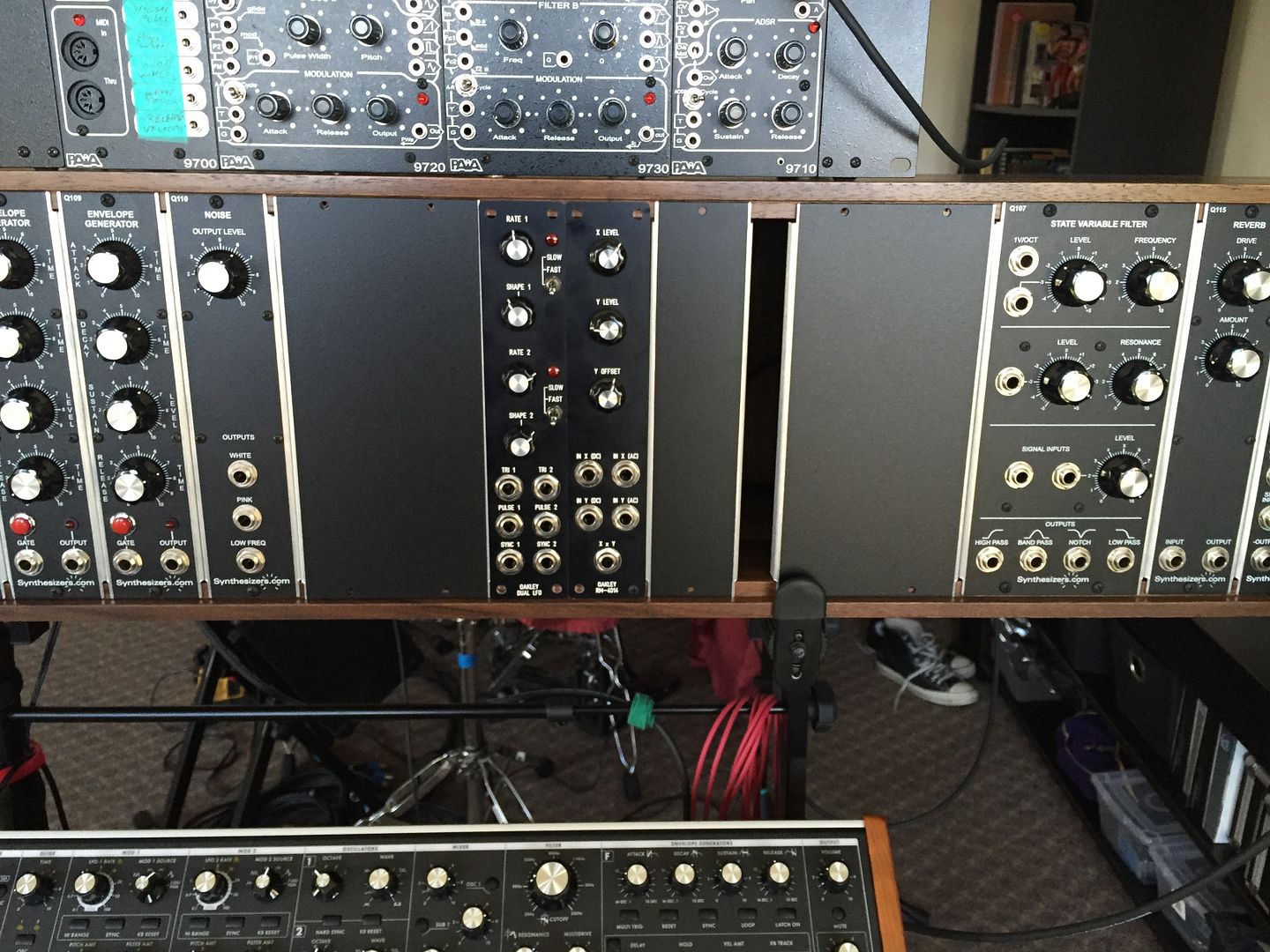 The other problem is that they are a tiny bit shorter than the DotCom panels and would therefore cause a split in the wood when mounted with the standard #6 1/2" wood screws.
To resolve these problems I am embarking on a bit of a project; My plan is to take standard DotCom 1U blank panels and mount my Oakley modules on them. My first thought was to find someone who could do the printing directly onto the panels themselves. After consulting some folks at my local music store they suggested I have a printer (who had done some excellent wrap work for them) produce vinyl stickers which could be placed directly on the DotCom panels. The printer assured me they could get the textured black matte finish that the panels have and that the stickers were extremely durable.
I'm going to use modified FPD files where I change the fonts to Helvetica to match the DotCom panels and turn them into PDFs which the printer can use. I will also have the crosshairs for the drill locations printed and I will drill out the panels once the labels have been affixed. I'll then mount my electronics on these new panels.
I think ultimately having the panels painted directly might be better looking but I'm not sure where I can get this done (in Ontario, Canada).
One other thing this process will do is dramatically reduce the cost of the panels. Front Panel Express charged $84 USD for the two panels. Then there was $22 shipping and a whack of duty charges (what ever happened to our Free Trade agreement with the US?). Blank DotCom panels are $17 (for 1U) and the labels won't cost all that much.
I'll keep you posted and post pics once I have completed the project.
PLEASE NOTE: This is not a problem with the Oakley designs and it's not a complaint. I just noticed this issue with installation in my particular synthesizer case and am sharing my solution.