At one point I was reading Suzanne Ciani's "String Patch" in her famous grant proposal docs. She mentioned getting superior richness and realism from a frequency shifting module. I was baffled as to how she got a consistent timbral shift with a changing melody, given that none of the frequency shifters I'd ever seen tracked 1 volt/octave in a consistent way. Once I read about the Buchla module in question, it finally made sense: said module allows the user to plug in a second signal (in addition to the processed signal) whose frequency determines the amplitude of the frequency shift. So Ciani could just plug in a. copy of the melody to that input and get a shift equal to the fundamental pitch.
But wait, is that any different than (theoretical) balanced/four-quadrant modulation with a sine wave equal in frequency to the carrier wave?
I say theoretical because I'm not sure which modules produce the actual theoretical sum and difference of two input signals. P. Elsea's book includes the frequency spectrum of a diode-produced ring modulation, and the harmonics produced are far, far more than sum and difference and much less organized.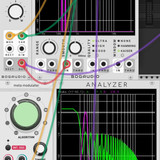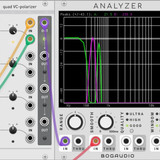 In VCV Rack, I tried balanced modulation with Blinds and got only a sum of the two input signals. I didn't expect Warps' "crude digital model" of a diode to produce a sum and difference (it didn't) but I was expecting its not-crude digital module to get closer. Instead, that algorithm produced a very trebly mass of upper harmonics.
Do any analog modules produce the theoretical sum and difference? How does an analog frequency shifter differ from a ring modulator? Thanks.