2020-04-20: No more orders are accepted at this point.
2020-03-17: Accepting orders for second run
. If you are interested, please familiarize yourself with the documents linked in this first post and shoot me an email. The run will essentially be treated the same way as the first run done last year. I've already collected the names of 5 fellow wigglers interested in joining the second round.
Sign-up list:

1. Checkit
2. tjscientist
3. nobody
4. MiGo
5. Singh
6. KaZpeR
7. Flounderguts
8. collinspr
9. wiperactive
10. TransmissionTapes
11. Echo_Chamber
12. MarkSinister
13. <unnamed>
14. luchog
15. spacecadet
16. Friedemann

2019-04-05: Build thread:
go
here
.
2019-03-17: No more orders are accepted at this point.
Nine builders have signed up. Now the material is going to be ordered and shipped to the builders.
2019-10-24: I am now accepting orders
. If you are interested in this project, please first familiarize yourself with the documents shown below (Assembly Guide, BOM, Bundle Request Form), then fill out the Bundle Request Form and send it to my email address. You can find my email address at
vocoder.hoerold.com
near the end of the web page.
Note: the bundle I am offering is
not
the whole kit. You will still have to order parts from your trusted distributor. There are three Mouser projects available:
I will accept orders until the first 12 candidates have signed up. As is customary at muffwiggler's, I will post the candidates' aliases on the first post.
Once the list is full, I will accept payments. After all payments are made, I will order the parts and PCBs as requested per the Bundle Request Forms sent to me.
Sign-up list:

1. synthcube
2. derpinguin
3. needspeed
4. Girilal
5. pinewave
6. Magman
7. drbach
8. tkatona
9. gwpt

2018-10-24: Assembly guide
Find the assembly and tuning guide
here
.
2018-09-27: Initial pricing info
For a good pricing indicator (final prices for panels pending), see the
bundle request form
.
2018-08-16: BOM now available
Alright, there are now two documents available:
1) A

PDF

that contains the complete assembly tables and the BOM.
2) An Excel

spreadsheet

that I've built up over the last couple of years and that I've just updated with the latest component cost.
I believe for many of you the spreadsheet is of strong interest as it essentially gives you and indication about the total cost for the BOM.
Feature comparison chart: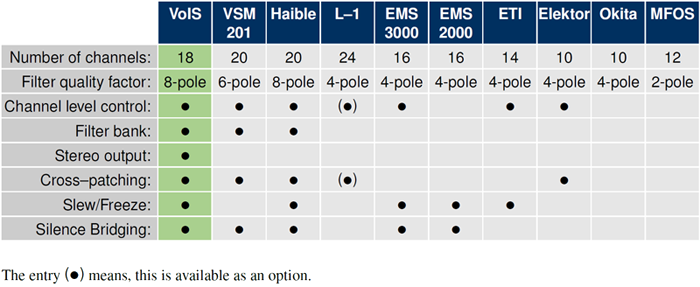 2018-07-30: Original post
Hello wigglers!
What do think about this 18-channel analog stereo vocoder?
I've been working on this project over the last couple of years but now it's time to check the community's interest. Over time, I hope we get to know each other better on this thread.